Cableguys have released ShaperBox 3, a major update to their rhythmic effects plugin for creative mixing and rhythmic inspiration.
According to them:
"With power-packed upgrades like Audio Triggering, Sidechain View in VolumeShaper, and the new LiquidShaper flanger/phaser, ShaperBox 3 is the go-to plugin for inspiration, musical motion and mixing magic.
Each of ShaperBox's nine powerful multiband effects – Volume, Time, Drive, Filter, Crush, Noise, Pan, Width and the new Liquid – is a blank canvas for your creativity. Just add a Shaper and draw any wave shape you can imagine to control the effect, all with a simple visual interface that makes producing fast and fun.
With Cableguys' easiest ever LFO editing, you can intuitively design fluid sweeps, angled lines, or stepped patterns. Unlock a world of rhythmic exploration and precision production in just a few clicks. Make your music move with effects patterns that sync to your song – or trigger them in any rhythm with MIDI and new Audio Triggering.
Use ShaperBox to turn bland melodies into unique variations. Cook up fresh ear candy from even the most basic samples. Warp the fabric of time with half-speed slooow-downs, glitches, stutters and scratches. Sidechain with total flexibility across three frequency bands. Warp, distort, bitcrush, filter, pan, flange, widen, add noise… And so much more. It's the ultimate plugin for modern mixes and infinite inspiration."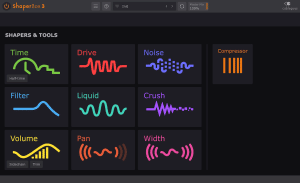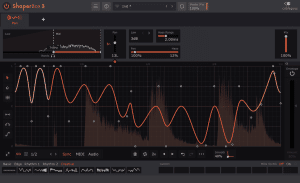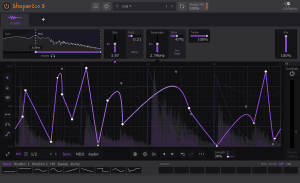 New Features in ShaperBox 3:
Audio Triggering: Switch on the new Audio mode and the LFO restarts with each transient. Now ShaperBox is a powerful transient editor and rhythm-tracking creative effect. Redraw the envelope of any sound to shape dynamics, saturate attack, filter the sustain, and more. Or get creative: trigger tape-stops, filter patterns, noise sequences and more from the natural rhythm of drums, melodies, basslines, real instruments – even full mixes. Go deep with full access to triggering parameters and 3 unique algorithms: Drums, General and Complex.
External Sidechain Input: Want to duck your bass with VolumeShaper, but the kick isn't 4×4? No problem. Audio Triggering follows any kick rhythm – just turn on the External Sidechain Input. And it's not only for kicks and sidechain ducking. How about triggering a bitcrushing pattern on your synth every time the snare hits? ShaperBox 3 makes it all possible.
Sidechain View: See your kick drum overlaid on the bassline with VolumeShaper's new Show External Sidechain feature. Draw the ideal ducking curve to match the contour of your kick, and lock your lows together like never before.
LiquidShaper: Dive deep into sound design. LiquidShaper gives you wild jet-plane flanging and deep, lush phasing in one Shaper. Custom LFO shapes take you far beyond the traditional. Modulate Centre and Feedback independently across 3 frequency bands. Create gentle stereo modulations… or monstrous robotic comb filter FX.
Easiest Ever Editing: Cableguys' renowned waveform drawing is now even easier, with a more powerful pointer tool that puts all key functions under simple left-click operation. Add angled breakpoints, bend any section into an endlessly flexible curve, make selections and manipulate them, and more. It's easy, fast and fun.
New Browser: No more waiting for inspiration to strike. ShaperBox 3's slick new browser makes it easy to find the presets you need, with clear categorisation and fast filtering. Variations for any sound are just clicks away – discover rhythmic chops, groovy fills, motion-packed sweeps, and more.
Compressor Unchained: The multiband Compressor in ShaperBox is now a separate tool that you can insert anywhere in the Shaper chain. Bring even the most complex Shaper chains under dynamic control – or blow them apart with extreme pumping compression.
Improved Mix / Bypass: An improved Master Mix algorithm gives powerful FX blends that morph smoothly from dry to wet, with no multiband phasing artefacts. And a new master Bypass button gives click-free switching to the original dry signal.
Analogue-like Envelopes: Envelope Followers feature improved Adaptive Release mode, for an even juicier analogue-like response. Get filtering, distortion, noise and more that tightly hug the dynamic contours of beats, basslines – anything – for kinetic, magnetic FX.
Plus:

VolumeShaper: Lookahead pre-smoothing for click-free MIDI/Audio sidechaining.
LiquidShaper: Positive/negative feedback mode for rich and hollow timbres.
LiquidShaper: 4, 8, 12 or 16 stages of phasing for lush resonance.
CrushShaper: Dynamic Treble control for compensating harshness.
TimeShaper: Time offset display for easier visualization.
Redesigned interface with larger editing areas.
Pricing:
Single Shapers: from €29 / $29.
ShaperBox 3 Bundle: Launches at €89 / $89 for Black Friday. Contains all 9 Shapers worth €301 / $301, saving 70%.
Upgrades available at www.cableguys.com
Free upgrade in your Cableguys account if you bought ShaperBox 2 Bundle after 1 September 2022.