Intro
Having used oeksound Soothe and the updated Soothe2, it didn't take much for me to have a gander at Spiff plugin when asked. oeksound is a relatively new plug-in company from Helsinki, Finland, founded in 2016 by Olli Keskinen. Their goals are simple as stated on their website, "instead of crowding the marketplace with more of the same basic tools everyone has access to inside their DAW, we search for new solutions to time-consuming problems." I love them already!! A clear, concise vision to bring new tools to the market place. Great!

So what is Spiff plugin?
In short, Spiff is a transient control plug-in, but it is so much more. Now there are a lot of transient processing plug-ins on the market. None of them offers the flexibility that Spiff plugin has. Spiff's "intelligent processing" is used to analyze the incoming signal and adapt the processing to only the relevant transient information you choose. Think of it as a multi-band transient shaper allowing you to boost or attenuate the desired information using a clean and straightforward GUI.
Using five EQ-styled bands, two of which are low and high pass styles and the other three that are more parametric, you can quickly manipulate your desired instrument to have more or less transient information. With controls to adjust sensitivity, decay, sharpness, and decay lf/hf, the latter which I will go into more detail.
Other features include the all-important cut or boost modes, which affect how the plug processes the transient information. A mix and trim section—a handy bypass and delta button, the latter allows you only to hear the processed material (beneficial when pinpointing a particular problem to work on). Essential parameters to also note are the ability to process the stereo mode (left/right or mid/side information), a stereo link feature ranging from 0-100%, and a balance feature allowing more or less processing based off the choice from the stereo mode. There is also an advance section; the ability to a/b along with a presets menu and the hallowed resize option. As with most plug-ins, a quick glimpse over the manual is advised.
Oh, boy, that's Spiffing!
Earlier I mentioned the decay parameters, and this is where things get tweaky. It isn't until you start diving into the decay settings that things get interesting. You are inclined to go straight for the depth and 'eq-styled' controls, but that will only get you so far. I found that as soon as I started to get to grips with the advanced decay and decay lf/hf controls, this transient shaper came to life. The epiphany came when working on a snare, and I wanted to bring out some more sustain. A quick tweak of the decay and kindly asking the decay lf/hf detection to look at high- frequency information and I finally had a snare to be proud of.

PRO TIP – Go too far and use the mix knob. You can get some exciting and subtle result by using Spiff in a parallel manner.
Available to download are my presets for Spiff plugin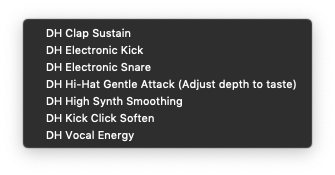 So does it live up to the punch?
Well, yes and no. Spiff is not a plug-in you throw on, and it instantly sounds better. After some extended time playing with Spiff plugin, I found it to be great when used subtly after the initial sculpting has taken place. When you are trying to get that one
acoustic guitar to cut threw a little more, for example. Or when you have a kick drum that has a bit too much presence or click. Spiff is definitely for precision work. In reflection, I also felt it sounded far more natural than other transient shaping tools, and overall I found I enjoyed using the cut mode rather than boost. The plug- in is fantastic and has a lot of options.
Oh, and if you haven't check out the previously mentioned Soothe2 product…you should!
General Information
Spiff – $169.00
The plug-in comes in:
Windows 7 and up as 32/64bit VST and 64bit AAX.
Mac OSX 10.7 (Lion) – 10.15 (Catalina) as 32/64bit VST and AU, and 64bit AAX, Intel-based Macs.
Daniel Holsinger
I spent a small part of my career working behind some of the biggest producers in the business, people responsible for U2, Depeche Mode, Blur, Coldplay and many more. My most notable achievement was recording 11 times Grammy Winner John Legend. I spend most of his time, mixing and mastering and am available for hire. booking(at)danielholsinger.com